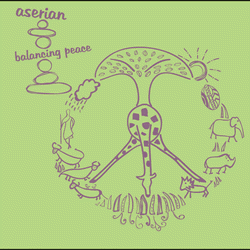 aserian
balancing peace
Maa language, verb
The Maasai from Kenya and Tanzania gifts us with an understanding of peace they believe is from God. This peace – ASERIAN – includes the people, the cows, the land, and even the weather. One Maasai would greet another: "Kiserian–We are at peace!" ASERIAN allows the nomadic Maasai to experience home, harmony, and wholeness in each other, their cows, the weather, and the land they roam. Kiserian!
The MotherTongues Aserian t-shirt is available in unisex and women's cut, in color sage green printed with plum. All water-based inks on 100% organic Fair Trade Certified t-shirts.

$1 of the sale price of every Minga t-shirt will be donated to the Center For Women in Transition: helping women and children deal with significant life challenges.
A good movie about "community-based conservation" (CBC) (balancing the needs of wildlife and people) featuring the Maasai tribe of Kenya and Namibia's Himba, is Milking the Rhino.
A great book for kids 10 years and older, is Growing up Maasai on the African Savanna, by Joseph Lemasolai Lekuton.
Books for younger kids about the Maasai:
'The lonely lioness and the ostrich chicks - retold by Verna Aardema
Masai and I - Virginia Kroll
Aserian - Maasai