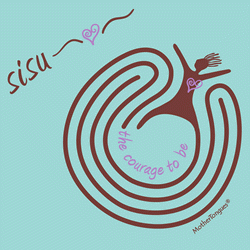 sisu
the courage to be
(see-soo) n. Finnish
Sisu describes a unique personality trait as inner being informs outward doing. To have this kind of courage is to have the determination to get things done against impossible odds. With perseverance, tenacity and imagination one can take care of things. Sisu is best witnessed in others and resists precise explanation.
"Courage, sacrifice, determination, commitment, toughness, heart, talent, guts. That's what little girls are made of; the heck with sugar and spice." – Bethany Hamilton.
the Dancing Woman story
The Dancing Woman Labyrinth was created by Lisa Gidlow Moriarty (www.DancingWomanLabyrinth.com) in response to her mother's death to cancer and her own cancer survival. The Dancing Woman knows grief, she bears the tears and celebrates the days of joy and survival. She is a symbol of women's strength and compassion. Her uplifted arms reach out in a supportive embrace; her wild hair suggests freedom as well as the unexpected ways hair may grow back after chemotherapy. The entrances under her arms are reminiscent of a friend's support and protection. She dances with wild abandon in release of pain.
The MotherTongues Sisu t-shirt is available in women's cut, in color blue sage. It is a fashion tee, slim fit, so size up if you don't like your t-shirts too fitted. Also see the Sisu tote bag with the Dancing Woman labyrinth design.
$1 of the sale price of every Sisu t-shirt or Sisu tote bag will be donated to the American Cancer Society.
Sizing: S/4-6, M/6-8, L/10-12, XL/12-14.
The Washington Post had a nice description of Sisu.
Sometimes even to live is an act of courage. - Marcus Annaeus Seneca

Sisu - Finland